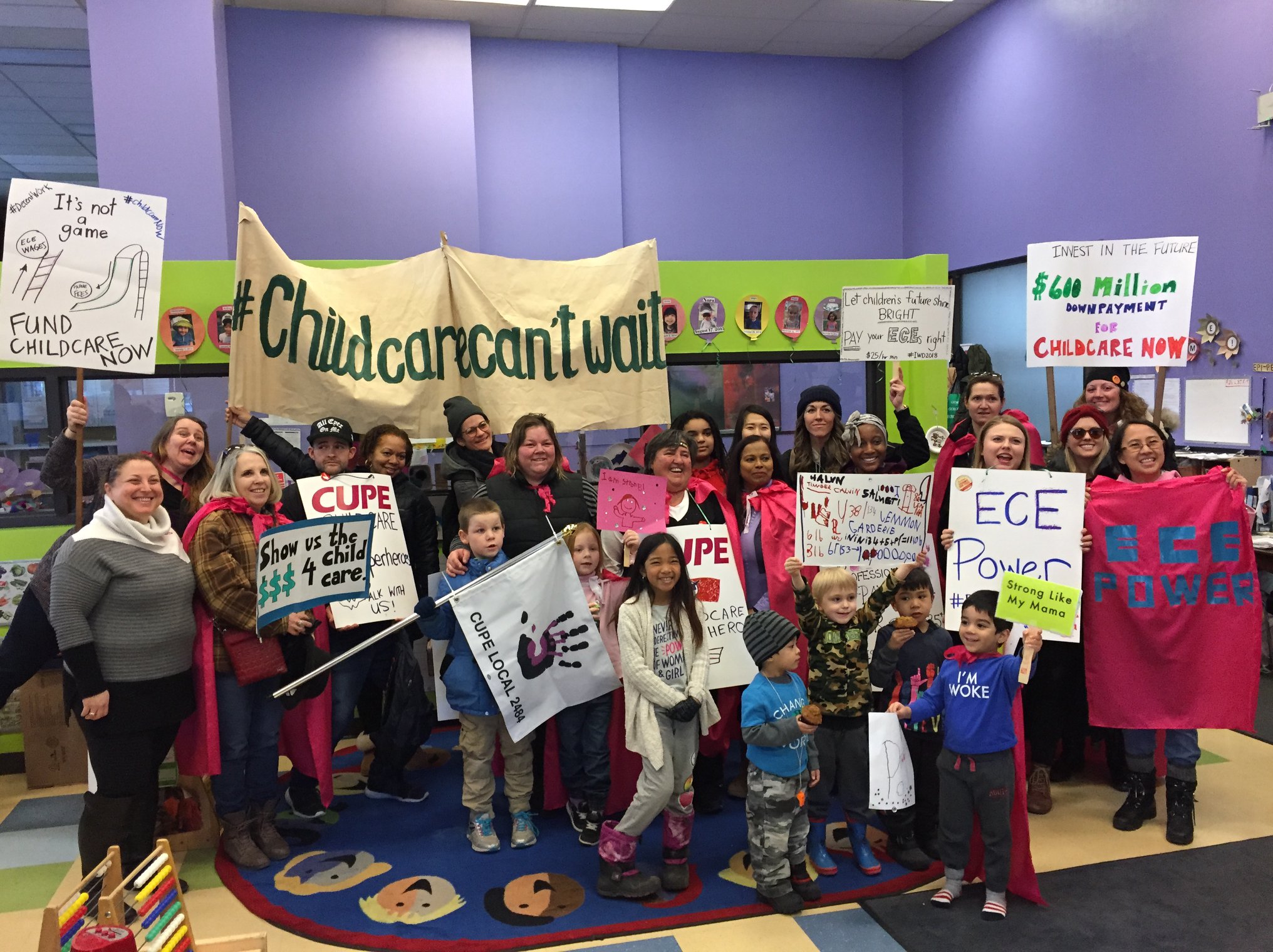 Two weeks ago, I received a notice in my inbox from SheEO, an international, feminist pro-woman entrepreneur organization, informing me of their latest campaign entitled "#IWD for me." Their idea is that International Women's Day should be a moment of self-care. They argue that since IWD has become performative —a time for corporations to roll out their support for women's equality and instead of working by giving talks —women should instead take this time for themselves.
However, turning IWD into an individual holiday for self-care flies in the face of the meaning of International Women's Day, and I want to tell you why.
Marching for a better life for all women, International Women's Day (IWD) has been celebrated in Europe since the early 20th century.  In former Soviet countries, it is a legal holiday for all. In China, it's a legal holiday—but just for women.  In Canada, reflecting the European influence, International Women's Day was first organized by Quebec women in 1973. IWD was founded in the struggle of working-class women for "bread and roses," or for a living wage and better life. The slogan is related to the Triangle Shirtwaist Factory fire in New York City that occurred on March 25, 1911. Here 140 immigrant women lost their lives because their boss had locked them into the factory during the fire. IWD was also born out of the historic strike of Russian women for peace and bread  at the end of February 1917 that kicked off the Russian Revolution.  Since then, the United Nations has proclaimed the date of March 8 as International Women's Day.
IWD pulls together a broad coalition of women, including women of colour, Black and Indigenous women active in various women's groups and in co-ed organizations. In the 1970's,, though the women's movement was at its height in terms of the number of activists working for equality   it was still divided in its activities related to pay equity, health policy, abortion, anti-violence, lesbian rights, daycare, politics and education. No one had any idea of how big the movement already was. But on IWD in 1978, we would find out. 
The Toronto IWD committee was grassroots, open to all feminists and met every week to plan the march. Open organizing meetings were held weekly and there would often be a hundred women in the room sitting in a circle discussing issues. Discussion reflected—sometimes pretty intensely—many voices and surfaced all of the different changes they were each demanding from the women's movement. To this day there has never been a paid employee of IWD. The work has always relied on volunteers.   
The changing focus of each IWD year's march would attract women from various communities. For example, in 1986 the anti-apartheid theme attracted Black women who also challenged the dominance of White women in the coalition. The demonstrations were huge and became the central gathering of a diverse women's movement. Probably the largest IWD was during the Eaton's strike in 1988, when the demonstration marched right through the Eaton's Centre downtown in protest of the company's labour practices. That year the trade union movement came out in force, and they have continued to march with us ever since.
Later, Women Working with Immigrant Women took over organizing IWD. They are still on the IWD committee in Toronto today, joined by a diverse group, including trans and nonbinary women, organizing a march that often receives support from men as well. To me and thousands of women across Toronto, IWD is a celebration of generations of feminist struggle. And in the last twenty years, the March has become more international in its scope. When women in a given country are engaged in an important struggle, they will often come to IWD with their placards to raise our collective consciousness about pressing women's issues around the world.
Unlike the Pride March, IWD has never sold out to the corporate elite or the cops.  It has remained a volunteer grass roots mobilization of women and their allies and has become more and more diverse every year.  Young women have taken the mantle from my generation and spread the event far and wide.  
Why #IWD4ME is  a Miss
SheEO's invitation to #IWDForMe read:
International Women's Day is the one day each year where companies and organizations reach out proactively to showcase women's stories. For many companies, it's a performative act for a day or a week and then we revert to the apathetic reality that women's stories and truth-telling about the state of gender equity are saved for special days like this. 

"We are welcoming in a revolution of rest with the understanding that true community care begins with self-care. Whether you can find a full day of rest or only have 15 minutes, we invite you to join us on your own terms" 
I am all for self-care being part of our battle for social justice and equality.  But IWD is a day of struggle, a day of collective celebration, a day when the women's movement declares itself.  We can't let corporate pretense take that away from us.
Here's the change  I'd like to see.
Every year, on the Saturday closest to March 8, I join thousands of people to celebrate International Women's Day on the streets of Toronto. It's a wonderful chance to join other women in celebrating all we have achieved and recognizing what fights still remain to be achieved. #IWDForMe is like a satire of neo-liberal feminism, or the exact opposite of what International Women's Day originally meant.
Frankly it horrifies me.
We can't march this year because of Covid  but let's support a grass roots women's group or join the Toronto march virtually this year.  Or you can join the Women's  Climate Strike. In an op ed in the Toronto Star, Vicki Saunders suggests that corporate women refuse to talk and ask their company to invite a worker in a rape crisis centre or shelter to talk to your co-workers about where inequality still exists and hopefully be paid for the talk.  We can agree on that. 
It was women in collective struggle who created International Women's Day and women together in struggle who will continue to celebrate it.
Fall is typically a season packed with feminist meet ups, community gatherings and conversation spaces. What to do this year? Can ZOOM meets ups fill the void?
Read More »
International Women's Day is about celebrating the social, economic, cultural, and political achievements of women. Attend a rally. March. Listen.
Read More »
"My eight-year-old son did not want me to leave. He said, 'It's too dangerous Mama. Please don't go. I love you. Just email them your concerns.'"
Read More »