It's the day of the nationwide Rogers outage. There's a feeling of abject fear and desperation in the air. Most storefronts have these hastily drawn 'CASH ONLY' signs. Worse, emergency 911 services are unavailable to many. It's lights out for the economy –  at least for a while.
Despite the chaos, Nyla Obaid (she/her), founder of Canopy Kids, an online, second-hand clothing shop, warmly greets me on ZOOM from her backyard on the traditional lands of the Mississauga's of the First Credit, Mississauga, Huron-Wendat and Anishnabeg nations (under Toronto Purchase Treaty 13) and immediately lets me know she's on her neighbour's Wi-Fi as she's without Internet. Nyla is calm, self-assured. She's got an energy about her that's instantly resonant. 
We get talking. She tells me more about launching her new second-hand clothing business for kids.
For many reasons, the timing for such a business could not be better.
Consumer inflation rates continue to rise and exceeded 8% year over year as of June. People are paying more for everything -cars, services, gas, and housing – putting financial pressure on everyone.
Embracing secondhand culture is one way to stay ahead of these unprecedented increases in inflation and make those proverbial ends meet in style – especially for parents like myself needing to stretch a dollar during the back-to-school shopping season. It's also good for the planet.
Furthermore, the second-hand clothing market is booming. According to an extensive 2021 industry report released by ThredUP, a leading US-based online retailer, the North American secondhand apparel market will grow 8x faster than the overall apparel market by 2026. The market is expected to grow 24% in 2022 alone. Projections indicate that 50% of all second-hand sales will be generated online.
Reclaiming Secondhand Culture
For Obaid (she/her), a tight family budget and secondhand culture are core elements of her lived experience. Born to Bangladeshi immigrants, Obaid is a first-generation Canadian who cites this culture as the inspiration behind her startup dream.
 "I grew up in secondhand culture. When I was growing up, my mom would go to some church basement and all the aunties from the area would show up with their kids' stuff and swap and sell and buy. Everything was already thrifted. So when my kids came around it was very natural to me to dress them in second-hand clothes and [I bought] second-hand toys [for them]".
While 'thrifting' today is increasingly about foraging for stylish bargains, for Obaid's family, thrifting was done out of sheer necessity. She remembers how her mother would thrift by default and not by choice.
Getting Into Recommerce
In May 2020, Obaid was growing increasingly frustrated with purchasing items for her children on Facebook Marketplace. She then had an idea to recreate the swap, sell and buy experiences from her childhood and add an online element to it with community building being the thread that ties it all together. Obaid called it the Lode Store and much to her surprise – in her words – "It was immediately successful." This, despite an atypical startup approach. 
Entrepreneurial training rooted in the male-dominated entrepreneurial industrial complex typically focuses on engineering and executing an extensive customer research plan as a path to knowing exactly what the ideal customer wants and how to serve them.
Instead, Obaid's approach is much more relatable. She is her customer. Her startup actions trusted that insight. 
Store offerings are chosen by Obaid herself for functionality, appeal and use. She tests toys out on her kids – if they like them, it goes in the store for sale. Obaid trusts her choices and her kids' reactions when it comes to curating content of her store. Her clients save 60-80% off retail. 
Obaid also didn't have time for a business plan, development of a minimally viable product, pitch decks to potential investors and a go-to-market strategy. Obaid simply collected some items together and started selling them online. She sourced more items and sold those too. Lather, rinse, repeat. Sales grew.
Even though Obaid's post-secondary education ascended into the upper echelons of business academia, she felt that it wasn't a path she wanted to pursue. "I do not like theoretical business, marketing and strategy background… I'm very uncomfortable with a lot of that. I'm uncomfortable with capitalism as a concept. So then when I started my business, [I asked myself] how can I still run a shop and not feed into all of that stuff?"
Building what worked and what her community (customers) wants, Lode Store rebranded as Canopy Kids. Today it offers thoughtful curation of clothes and goods for newborns up to age 14, plus an innovative time-saving, cost-saving subscription service and free delivery across Toronto. The company also offers kids' room organizing, birthday parties and curated capsule shopping. The enterprise also leads mutual aid initiatives plus donates 15% of its proceeds to organizations working to end oppression.
With her partner's second income as a safety net, Obaid started her business with just $500 of her own money and didn't draw out any income for six months in order to get the business off the ground. 
A 'real' business
Obaid sometimes wonders if she's running a 'real' business. She actively rejects anything related to 'girl boss' culture and hustle culture. "It does feel like this can't be a real business because it doesn't meet all of these business-y qualifications," shared Obaid. "… [This] can't be a real business unless [it's] scaling. [It] can't be a real business unless [it's] giving the people what they want and giving it an end and making it bigger and bigger. It is, [however] me living out my values and making a living at it so I think I'm okay."
She recalls how her recent experience in one business incubator made her question her business structure. Did she have a growth plan that equates to 3% annually? Did she have an exit strategy? She was recently advised to cut back on donating 15% of monthly sales to charity because it took too much from the bottom line.
Why do businesses (especially female/non-binary-led) have to conform to widely accepted definitions of what it's supposed to be or look like? Who does it serve to have us conform to these definitions? Is there only one way to run a business? As our conversation progresses, I'm beginning to think the global answer to these questions is a definitive no. 
Secondhand culture and community 
Even though Obaid ran into some resistance to her business model, she knew exactly what she wanted to achieve with Canopy Kids. The community she's created – especially during a time when contact with other humans was severely limited due to the ongoing pandemic – is a necessary one.
 "I didn't even realize it was possible to participate in capitalism in this way…this business feels good."
Obaid's next milestone is to work fewer hours to spend more time with her growing family while still supporting the enterprise's growing community.
The Future?
I believe secondhand culture is not only here to stay; it's the new normal. 
As a progressively minded parent, making the choice to shop at Canopy Kids is a no-brainer.
I'm supporting a business run by a feminist woman of the global majority who's chosen to run her business in alignment with her community and her values. Canopy Kids is intentional about providing for others in a sustainable and just manner.
Take that inflation! Pow! Extractive capitalism.
We need to rethink how businesses are created and run especially under a feminist lens. We need to accept the fact that there's really no set way to run a feminist business.
What if we instead, as feminists, created spaces for founders like Obaid to envision businesses that align with their values, meet their needs, work to end oppression and create communities that genuinely support each other through acts of commerce? Creating said space, heck, an entire economy like this, would be a much-needed radical act.
Publishers Note: Canopy Kids participated in the Fifth Wave  Initiative, a year-round program offered by CFC Media Lab and its partners to support the growth and development of women entrepreneurs in the digital media and commerce sector in southern Ontario. All enterprise founders in the Fifth Wave community are selected for both their potential and commitment toward weaving intersectional feminist ideals of equity and fairness into sustainable and scalable business growth strategies. Fifth Wave Initiative is committed to a minimum of 50% participation per cohort by members of underrepresented groups. The Fifth Wave is a LiisBeth ally sponsor at the Lighthouse level. Applications for Cohort 5 are open August 25. Apply here
Lorna Mutegyeki's clothing designs are bold, unique, and stunning. And she insists on treating her employees with the respect they deserve.
Read More »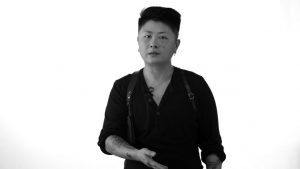 Kacy says the queer fashion scene is begging for new entrepreneurs to enter the market. But forget about mainstream start up ecosystem support.
Read More »