"They tried so hard to bury us, they didn't know that we were seeds". With these words, Ojibwe founder of Cheekbone Beauty Cosmetics, Jenn Harper, set the tone for this year's STRIKEUP event – a digital conference for women entrepreneurs.
Harper had me hooked. Her profound words during her remarkable opening address became the emotional backdrop of the entire event for me. She went on to share her personal journey of survival, healing from inter-generational trauma of residential schools and settler-colonialism, to eventually going on to run a successful beauty brand.
Based on my previous experiences at entrepreneurship events which centred on individualism, grit and glorified capitalism, arriving at STRIKEUP I had expected to gain business acumen. I wasn't expecting to be quite this moved and motivated. This space felt different. This space gave space to stories that left my heart full, and my mind buzzing with ideas.
As a multi-passionate entrepreneur, I was eager to learn about ways to nurture the growth of my businesses ethically and sustainably in a pandemic market that seems to be changing at a mind-spinning pace.
Collective Care in Commerce 
Work-life balance was a theme that came up often in the success stories that the speakers shared.
STRIKEUP centered much of the conversation of success in business on inclusion and an ethos of self-care and community care.
In a fireside chat with Joanna Griffiths, she shared the importance of boundary setting to avoid taking on too much, reminding us that 'no' is a beautiful word. It was inspiring to hear from women who valued their reclaimed time -for how much more they were able to invest it back into themselves, their loved ones, and even their customers.
Catherine Addai, Founder of the clothing store Kaela Kay said it beautifully when sharing that her decision to focus only on her business instead of working multiple jobs was a risk, but one that allowed her time for herself, her family, and her mental health. Throughout the conversations, there was an important parallel drawn between our capacity to care for ourselves as entrepreneurs, and the possibility to also care for and nurture every aspect of our business and the stakeholders involved – from collaborators to customers.
---
The Futurepreneurs 
What I found most inspiring about STRIKEUP was the hope it instilled for the future of women's growth in business.
In her talk about AI (artificial intelligence), adaptations and tech trends, Amber Mac debunked the idea of the doomsday scenario often depicted by the idea of AI and automation, highlighting our incredible ability to adapt to technology. She shone a light on technology's ability to unite us by providing greater access to all, while also helping us prioritize our purpose and re-imagine work. Her focus was on 'growing' or 'soft' skills like critical thinking, creativity, and emotional intelligence that push us forward and help us to continually adapt to a changing world.
Similarly, in her fireside chat, Griffiths says that there is no one-size-fits-all approach to 'Futureproofing' – preparing your business for the future. Building a business that is future-ready is about truly listening to your customer's needs and continually trying to understand and adapt to their wants and needs.
When it comes to future-focused thinking, businesses are shifting faster than ever. Social Media Strategist Alecia Bryan's learning lab about simplifying operations was an insightful, deep-dive into automation tools and approaches that could support that shift. She reviewed e-commerce software that supports adaptive change such as optimized online stores, conversational commerce, and social media platform integration as key to a 'digital first' business approach.
My most meaningful takeaway from STRIKEUP was the validation that women business owners can successfully emerge into a lane of our own choosing, through a multitude of entry-points into entrepreneurship.
There is no specific roadmap, only a fine tuning of your internal compass, the right tools to stay on your path, and strong companions to help you find your way. Harper put it succinctly. "There really is no wrong decision if you learned something from it".
---
From a Brit who zoomed in for the Canada's women entrepreneur StrikeUP conference.
Read More »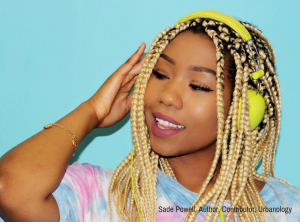 This week, LiisBeth invited Urbanology, a Toronto-based lifestyle and music magazine, to curate a playlist for readers looking for a cure—and to discover new artists in the process. Enjoy!
Read More »
"My eight-year-old son did not want me to leave. He said, 'It's too dangerous Mama. Please don't go. I love you. Just email them your concerns.'"
Read More »