Wanda Deschamps is a crusader for inclusion:
founder of Liberty Co, an organization helping to increase the participation level of the neurodiverse population in the workforce,
a champion for the Inclusion Revolution, a worldwide movement launched in 2018 to spearhead broader thinking about disability, especially disability employment,
advocate for gender equality through the #women4women collective,
co-founder in 2019, with Liz LeClair, of the National Day of Conversation, a digital conversation about the issue of sexual harassment of fundraisers in the charitable and nonprofit sectors.
We spoke with Deschamps about hosting the second National Day of Conversation on Nov. 26  this year.
LiisBeth: Why did you start a conversation on this topic?
I've been a gender equity advocate my entire life. And I worked in the charitable sector for a generation—25 years. I have noticed questionable behaviour, inappropriate behaviour. I have certainly been aware of the sexism…and the lack of equity at the top. Seventy per cent of our employees are women, yet we participate at about 30 per cent of the leadership level.
But it didn't all come together until my experience at the University of Waterloo. I was sexually harassed for the three years that I was there. And I complained, and I experienced retaliation.
On Jan. 2, 2019, I was—like so many people—reading the national headlines for the first business day of the new year. It was a cold, dark morning. And I saw the oped in the CBC by Liz LeClair where she shared her own experiences of sexual harassment as a professional fundraiser.
I sat there, stunned. I did not think, given my experiences, given the retaliation, that someone would speak out that way. And so, I was in touch with Liz right away, as were a number of people.
Gradually, our movement was born and we decided on a day of conversation about sexual harassment in the charitable and nonprofit sectors. And that's how we got to where we are today.
LiisBeth: How has COVID-19 affected equity in the charitable sector, and how does the National Day of Conversation address that?
The pandemic has highlighted inequity and the charitable sector is part of that inequity. But awareness does make a difference; addressing an issue begins with awareness. You can't address inequity if you don't think there's a problem. When I was walking home last year from our in-person session, I thought we are making it increasingly difficult for people to say: 'I didn't know. I didn't know there was a problem. I didn't know there was an issue. I didn't know so many people were affected by this. I didn't know that it was having such an impact.' And after the online sessions on Nov. 26 this year, I believe that we will feel the same way.
LiisBeth: What do you hope people take away from the National Day of Conversation this year?
On November 26, at 11:59 PM, will our work be over? No.
We need to keep doing what we're doing; we need to keep the conversation going.
We say that we have a trifecta call to action: promote the day in your social media channels, join the conversation online, and register. And we have hours of virtual dialogue and speakers lined up from across Canada and beyond who are thinkers, leaders, advocates, experts, so we believe there's something for everyone to learn.
Participate in the National Day of Conversation by posting and sharing content with the hashtags #NationalDayofConversation and #NDOC on your social networks, and start a conversation at your workplace about the sexual harassment and assault of fundraisers – review organizational policies and support systems with leadership.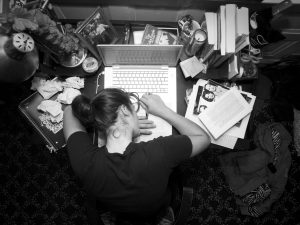 As an anonymous content writer in a booming industry, Emma Elobeid found herself selling more than just her words.
Read More »
As I reflected on defining moments in my life, I was astonished by how often I drew on the work of feminists to navigate through challenging times. 
Read More »