Yesterday, while at a local theatre, I waited in line for the gender-segregated washrooms. As usual, the queue for the women's went straight out the door and halfway down the hallway, while the men's looked almost empty.
Most of us have grumbled about this poor architectural planning, but after spending this past week with Lauren McKeon's No More Nice Girls: Gender, Power, And Why It's Time to Stop Playing by the Rules, I labelled the problem differently: this is yet another example of how the world is designed for cis men.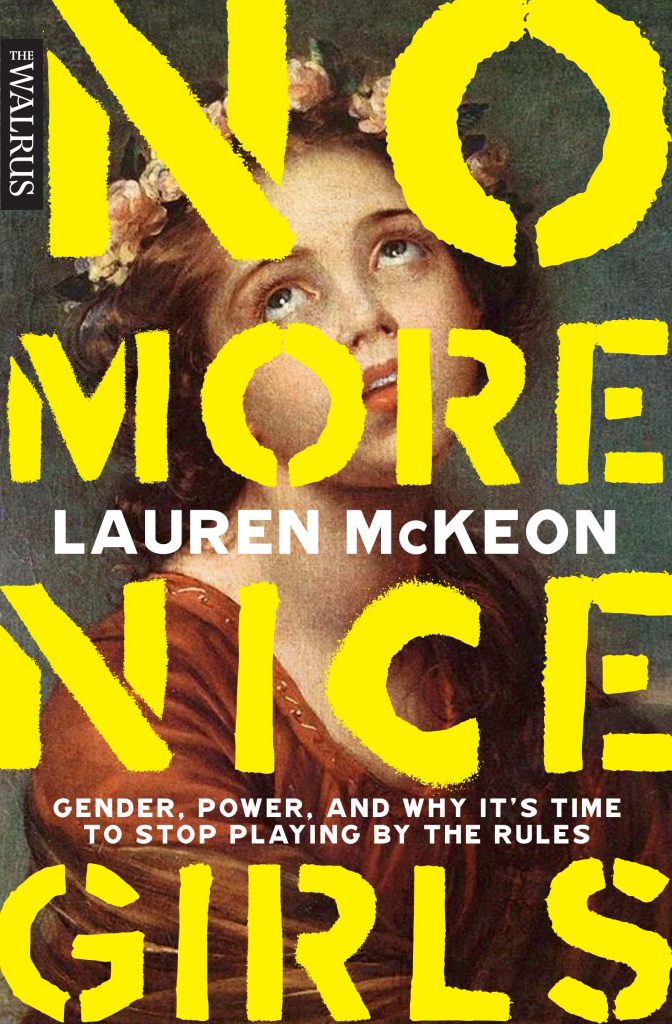 No More Nice Girls is a well-researched and infuriating (in all the right ways) book about power and how women's and non-binary people's power is routinely undermined. It's packed with statistics on how marginalized people are taught to shoehorn themselves into a system intentionally designed not to fit. With an intersectional lens, the author lays out the way power inequities play out in politics, the economy, law, media, science, technology, city planning, and other areas.
McKeon challenges the myth that more women need to just work harder (and be "nice" while doing so) to reach for the top of existing power structures. Here's one of the shocking statistics: when women CEOs do manage to reach the top, they earn $0.68 to every dollar their male colleagues make.
She also takes on the #GirlBoss trend, which encourages women to contort and bend instead of working to change the system. "They must be a boss, but not bossy; authentic, but Insta-trendy; real, but not harsh; beautiful, but effortless; killin' it, but not thirsty; busy, but glowing with Goop-ified self-care; vulnerable, but just the right amount; tough, but just the right amount; confident, but not extra; warm, but not weak; decisive, but not rude; your bitch, but not bitchy."
What interested me most about No More Nice Girls were the examples of how power might be reimagined and redefined, and how this power can lead to social equity.
For example, what if we viewed power as breaking silence and healing from trauma? Citing Tarana Burke, #MeToo's founder: "What we're doing with #MeToo is building something that doesn't exist. Literally. It's an international survivor-led and survivor-focused social justice movement."
Power can also look like projects that intentionally decentre cis men and focus on the needs of women and non-binary people. McKeon offers anecdotes about the Toronto Newsgirls Boxing Club, The Michigan Womyn's Music Festival, and the co-working space The Wing, all of which were created to be safe spaces and "where men no longer write the rules."
But feminism is a work in progress, and McKeon raises essential questions about who gets included and excluded in these spaces, urging feminists to challenge their intersectional praxis: "In many ways, the women-only movement has mirrored the challenges of feminism itself: the centering of biological definitions at the expense of transgender women; the exclusion of Indigenous women and women of colour from its most visible and influential positions; claims of battling tokenism while institutionalizing that same philosophy in its own histories and organizations."
Another chapter is devoted to the power of feminist entrepreneurship, such as Ali Ogden's Bon Temps Tea Company, which gives micro-grants to women to encourage and support their feminist work, and Taran and Bunny Ghatrora's Blume, a chemical-free period-product subscription box that includes politicized information about menstruation. These and other examples spotlight ways in which "a feminist-first enterprise that's built with sincerity can phenomenally change the economic landscape." They can create kinder workplace cultures that value mentorship, collaboration, staff wellness, and are trauma-informed. Among other things, they can include breastfeeding rooms, child care, and be more intentional in their hiring practices.
McKeon ends with reflections on Women Deliver, a global feminist conference that took place in Vancouver in 2019. Moderators closed main-stage panels with a question about how speakers would use their power. McKeon optimistically writes, "This question was a way of reminding everyone there that they did have power, now, even if it didn't always feel like it—even if their power didn't look anything like traditional power…. All of it put a drop more power into this new bucket. It evened things out. It remade the world."
No More Nice Girls made me ponder the ways I use my power. I'm an author working within a publishing industry context that is still racist, sexist, ableist, and heterosexist. I do my best to mentor, share space (and when appropriate, make way for others), amplify the work of marginalized writers, collaborate to create opportunities, and push from the outside to help steer the slowly moving literary ship in the right direction. It's easy to grow cynical, to question whether these efforts drive real change, or are just drops in a bucket. But McKeon's optimism made me reconsider the power of this work. Could it remake the world?
I know that it's possible to design washrooms to be accessible, safe, inviting, and not segregated by gender. It's possible because people have done the advocacy and work to design them. Now it's time to use our power to disrupt oppressive systems and create a world that includes all of us.
---
Farzana Doctor is the author of four novels, including the forthcoming Seven (Dundurn, August 2020).
---
Did you like this article?
LiisBeth is a womxn-led/owned, indie, ad-free media outlet that operates as a 100 percent reader-supported enterprise. If you enjoyed this book review, please consider a donation or become a reader subscriber today!
Support LiisBeth
You will have access to Payments processed through PayPal.
You can also contribute to our "Sustainability Fund" or an open donation in any amount.
---
Related Articles
https://www.liisbeth.com/2019/08/14/feminism-a-key-idea-for-business-and-society/
https://www.liisbeth.com/2018/03/15/another-brick-in-the-wall/
https://www.liisbeth.com/2019/09/24/feminist-in-the-city/